Match-Trader is a new trading platform recently launched by Match-Trade Technologies the leading technology provider in FX and Crypto market. It's an all-in-one trading solution offering mobile, web and desktop apps together with embedded Client Office to ensure all of the activities like deposits and withdrawals can be pursued in one place. It's simple and intuitive which makes it easy to use for novice traders but its modern look and advanced options meet the highest expectations of experienced traders at the same time.
It works as a stand-alone independent trading system with its own backend infrastructure. The backbone of Match-Trader system is a back-office based on proprietary trading engine, used before by institutional clients of Match-Trader Pro platform no redesigned to adjust to Brokers needs. Thanks to that brokers can enjoy full control over the system, that can be configured according to their requirements. 
Easily accessible and user-centric
To keep up with the 'trade on the go' standard of investing, Match-Trader provides the very same trading experience regardless of the device. Not only all the users' settings are synchronized across web, mobile and desktop in real-time but all of the features can be accessed with a single-sign-on. This way, funds can be deposited straight away in the platform without having to switch between different applications. Such a seemingly simple feature helps to increase the number of customers by improving their flow.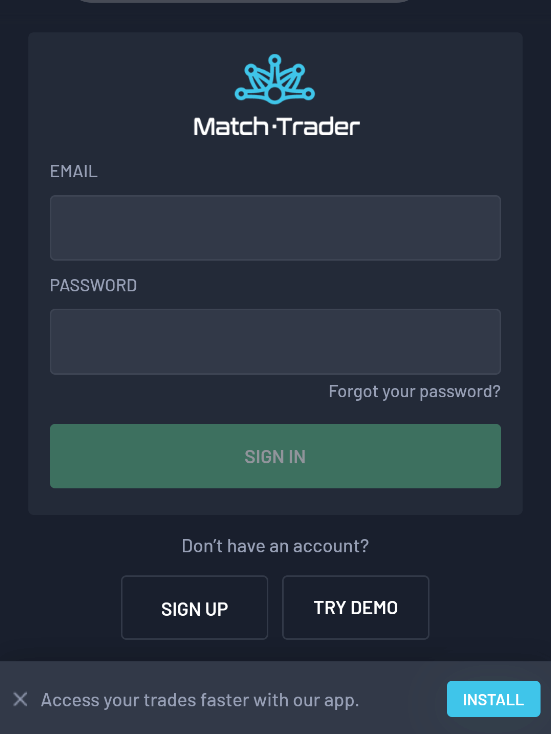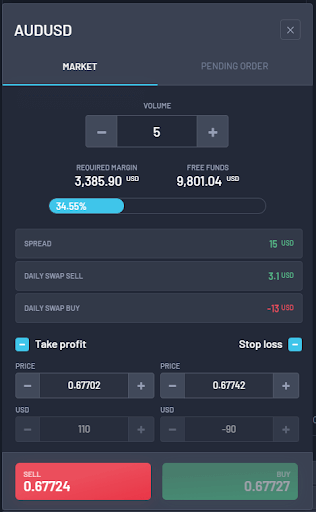 Traders can download Match-Trader app directly from Broker's website of simply using a web browser. The software leverages a Progressive Web Application (PWA) technology that provides native mobile experience for web apps. This makes it a universal app that can be launched from an icon on the home screen of a chosen device. It's an interesting alternative for offshore brokers because there's no need to undergo Google Play or Apple store approval when publishing own branded apps. On top of that, adding a PWA app to the device's home screen takes up no storage on the device whether it is a desktop or mobile.
Vast branding possibilities
One of the most important things when running brokerage is building a strong brand to help ensure a steady flow of customers. That is why most brokers expect wide branding possibilities to make given platform 'their own'. All software providers recognized this need long ago and equipped White Label operators with full branded desktop and web apps. However, it gets more complicated with the mobile app. The software is usually registered under Software Provider brand in the stores. Brokers operating under White Label can be only listed in the app among all of their competition. Traders first download the app branded with Software Provider logo and only then they get to choose the broker they have an account opened with. As for Match-Trader platform, every single app will have its Broker's logo displayed. Also, the platform itself can be customised by adding a logo, changing colours of the tabs, buttons, highlighted elements of hovers and choosing own name for the app to build brand awareness.
Optimised customer journey
When running a brokerage there are several critical processes that a company needs to pay attention to. It's customer onboarding and a first-time deposit. Match-Trader developers considered all these key business processes and workflows, as the needed tools come with the platform in a bundle. The registration forms are embedded in the platform across all channels – mobile, web and desktop which helps to convert more leads into traders. Match-Trader is also seamlessly integrated with the Match-Trade's Client Office, where investors, thanks to a single-sign-on feature, can access deposit options with a single click and pay it straight to their trading account.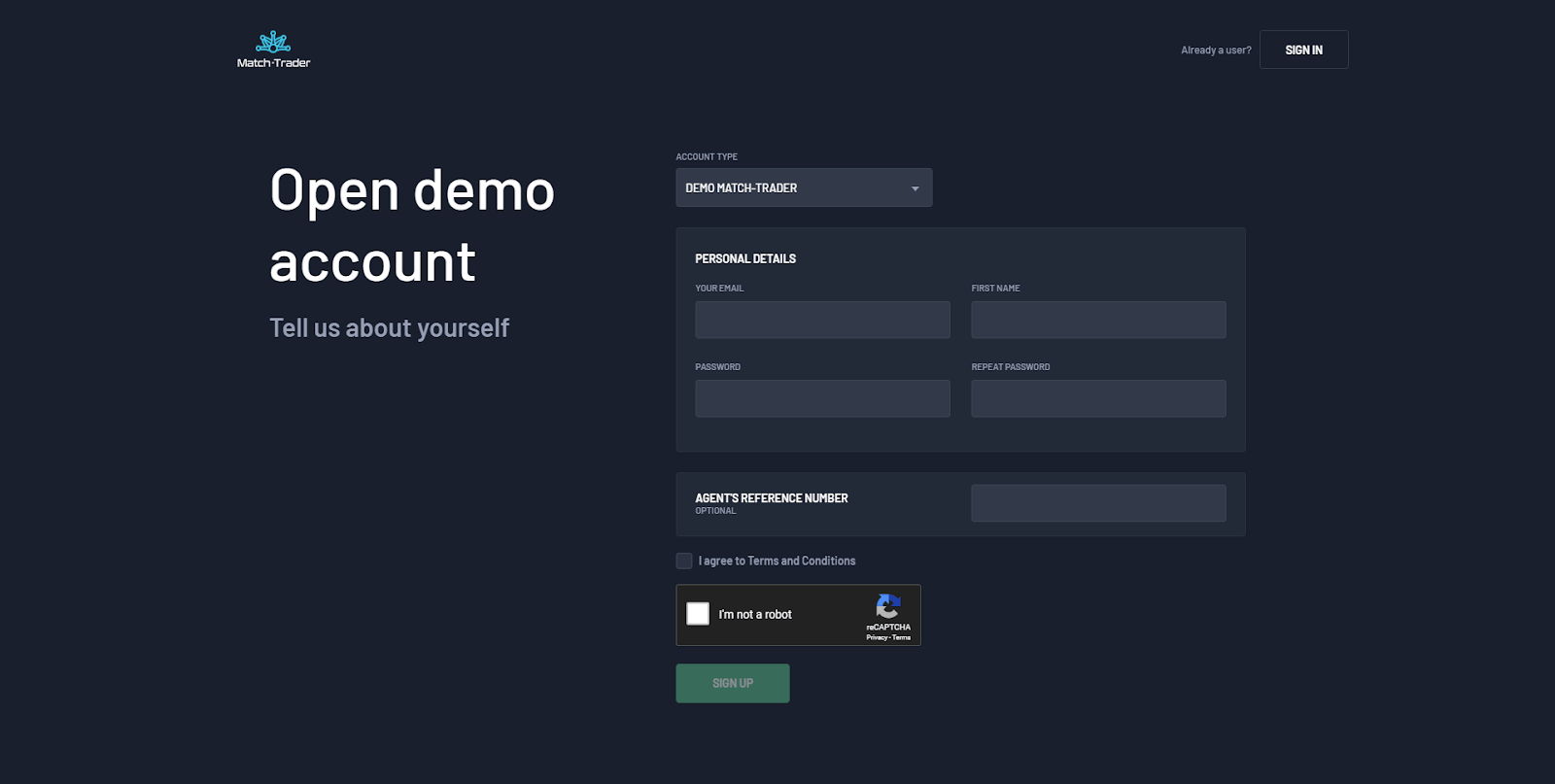 Clear and thought-out user interface
Match-Trader user interface will appeal to traders with its sophisticated modern design. The platform is very intuitive therefore easy to use even for first-timers. All the information is displayed and making a trade takes no more than 3 steps.
The user interface is rather a market standard. List of instruments on the left in the Market Watch with charts taking the main space and open positions with trades history at the bottom. The list of instruments is conveniently grouped into asset classes, so it is very easy to find and trade on the desired instrument. The platform provides information on the required margin of trade, and the estimated value of gain and loss for take profit and stop-loss orders even before the position is taken. For users who don't want to perform their trades manually Match-Trader in partnership with Brokeree offers solutions like PAMM, MAM or Social Trading to automate their trading. It gives traders more flexibility in managing their funds by allowing allocating trades between master's and investor's accounts and individual choice of risk levels.
Charts in Match-Trader provide all technical analysis tools necessary for each trader. What distinguishes Match-Trader among other trading platforms is that brokers get the same prices on charts as they appear in the Market Watch.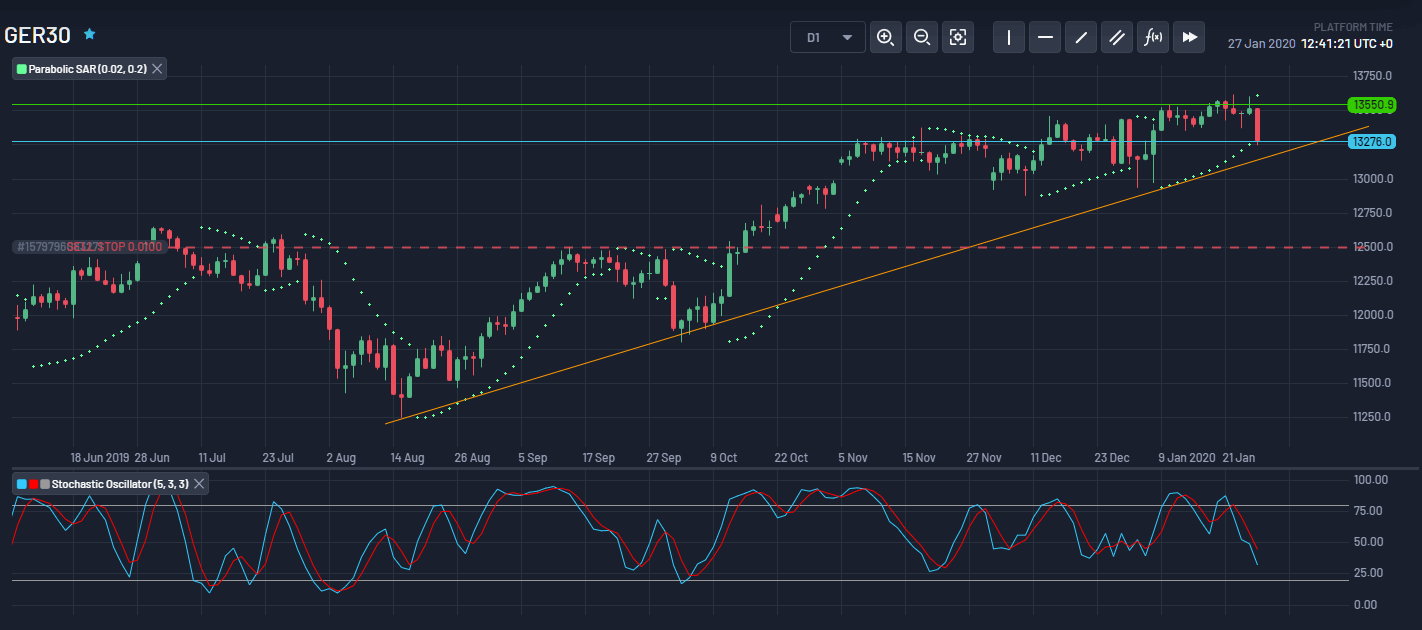 The bottom section of the platform comprises open positions and history of trades and deposits. Also, the records contain all the components that contribute to the net profit on the level of a single trade, so do commission and swaps.

Personalization options for traders' convenience
When it comes to adjusting Match-Trader's interface to the user's particular needs it allows a couple of changes. What's worth noticing is that all platform's settings i.e. list of favourite symbols, technical analysis tools applied, etc. are all synchronized across mobile, web and desktop apps. Whatever action was taken in the web app will be reflected on mobile devices. Whereas, other software providers have developed mobile, desktop and web apps as separate software pieces, so all customizations and the technical analysis need to be applied by the user from scratch on each device.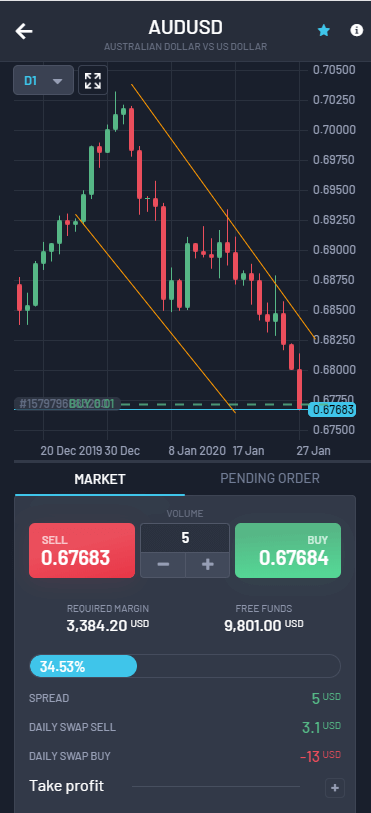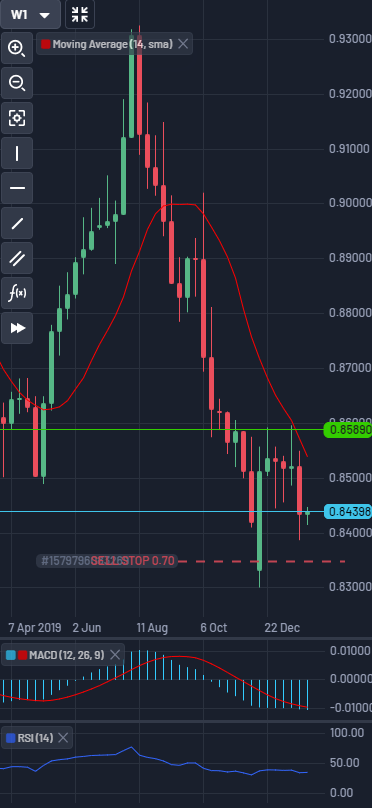 Advanced trading back-office
All brokers using Match-Trader platform have access to back-office applications allowing them to make modifications whenever they feel the need and manage the entire system on their own. Manager app with API was created to handle clients' operations such as creating new trading accounts, changing passwords, making deposits etc. Moreover, it allows brokers to integrate closely with Match-Trader system and connect external applications.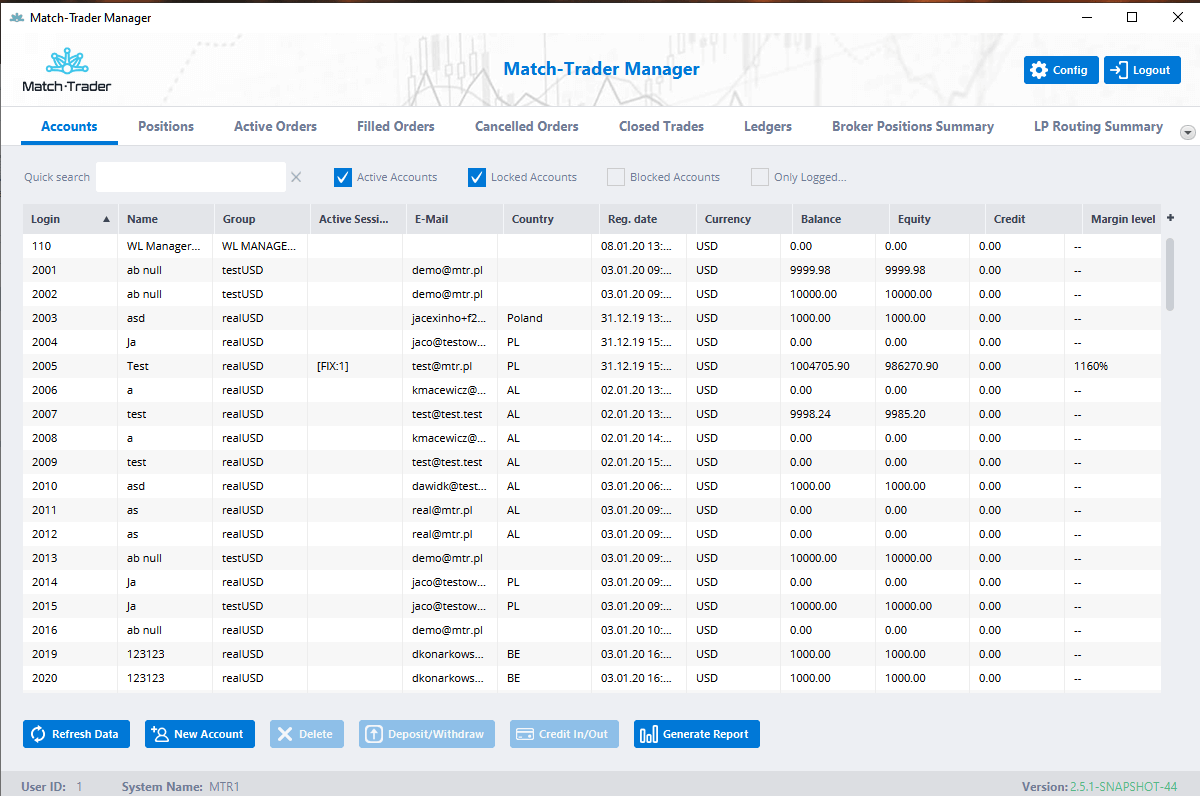 Admin app, on the other hand, gives the authority to configure the whole trading environment. Admins can set spreads, commission and leverages on the clients' groups. Above that platform is offered with reliable and ultra-fast Data Feeds for various instruments together with B-book execution of course with a possibility to add different feeds and instruments. Also, there are several LPs integrated with the system so they can be connected to without any problem. The Match-Trade team is constantly adding new solutions so fast expanding the ecosystem can be expected.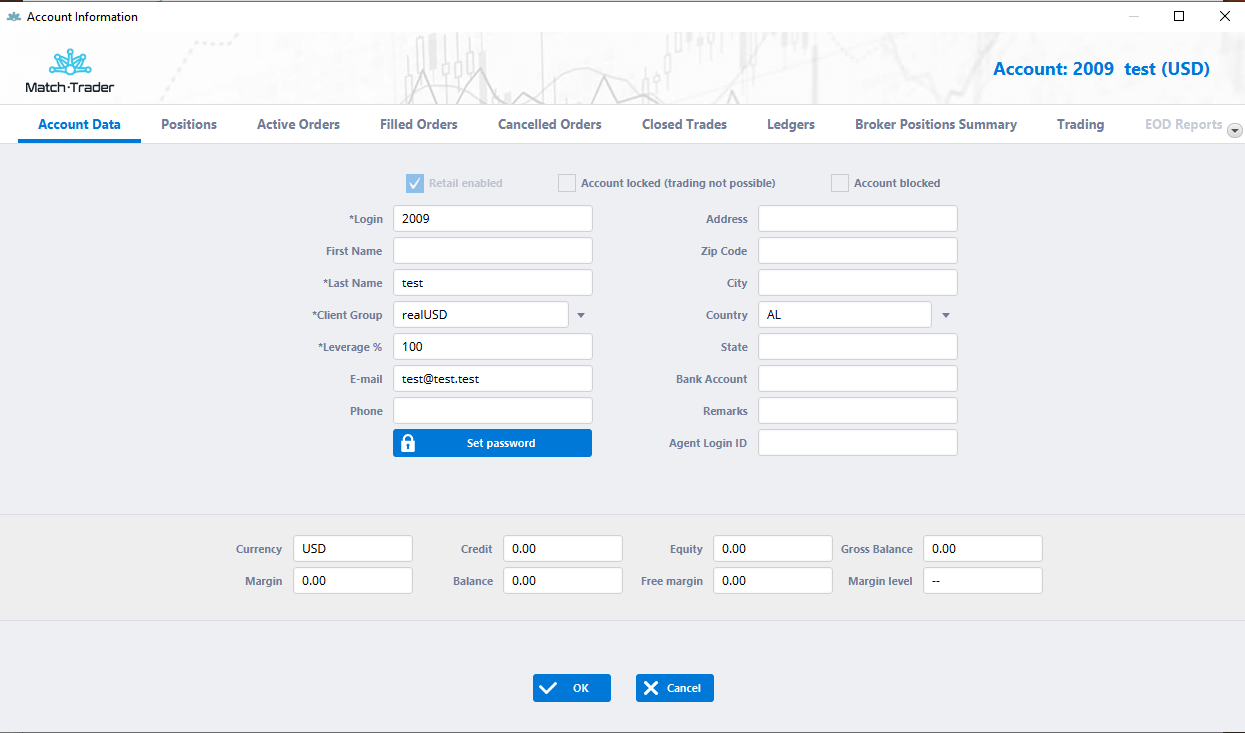 Match-Trader is offered in 2 versions as simple White Label or as Full license, the broker can choose which version is more suitable for him.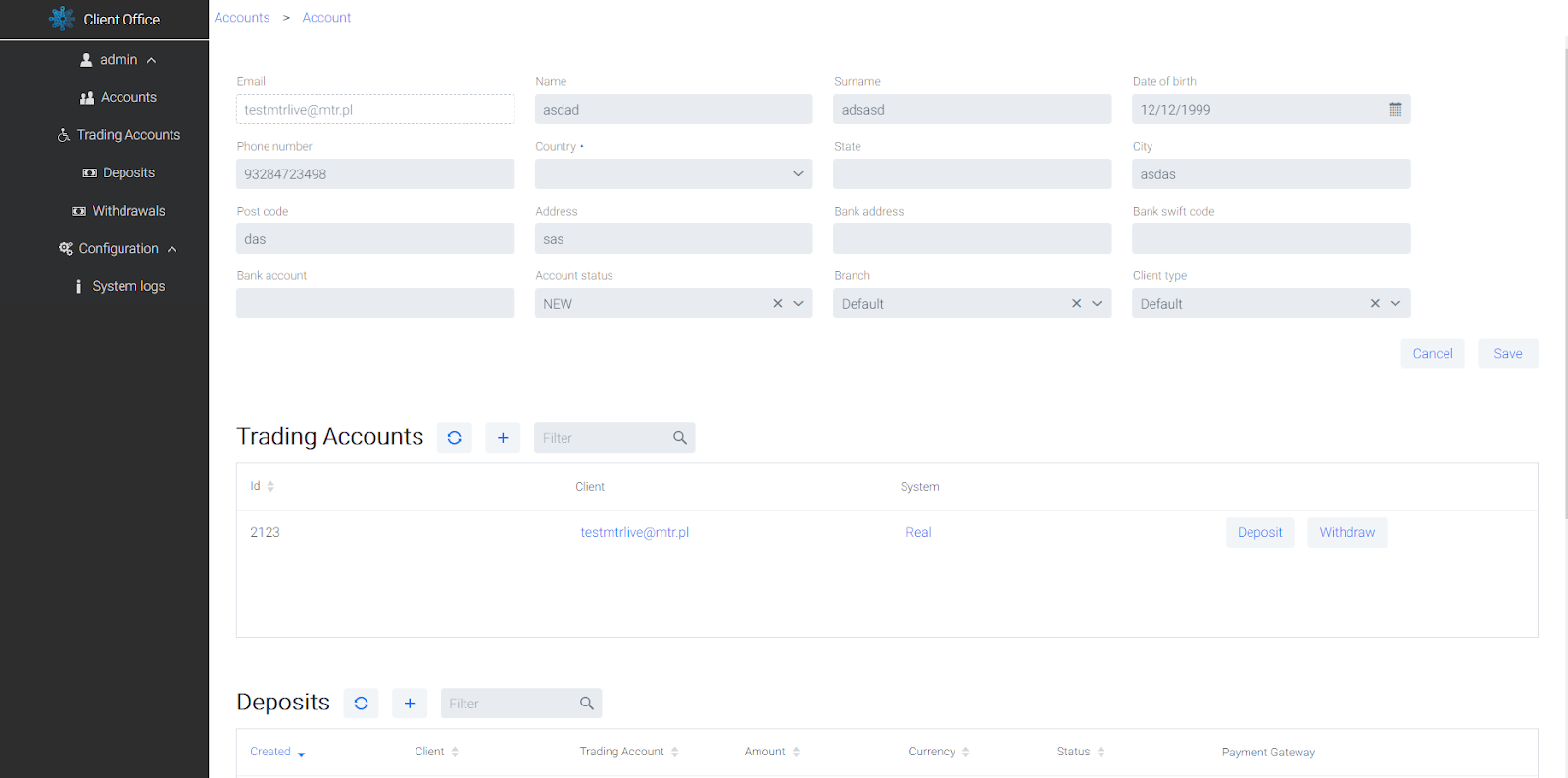 To simplify the use of the platform, it includes several features allowing traders to perform all activities without having to switch between different applications. Match-Trader is offered together with proprietary CRM, which provides integration with KYC providers, Match2Pay Crypto Payment Gateway and 300 other PSPs through Praxis Cashier.
Why it's worth trying
To sum up, Match-Trader is a good solution for small and medium-sized brokers, who look for a quality all-in-one solution at a competitive price. It offers the best trading experience and a couple of new, interesting benefits for both brokers and traders. The experienced investors should appreciate the modern edge and expanded options while the beginners will enjoy its simplicity and intuitiveness. Branding possibilities on an unprecedented scale is the most likely to attract forex business owners.