Progressive technology
At first glance, it might seem that investors are not interested in the technology on which the platform is based. It is usually assumed that all platforms should meet market standards of functioning principles. However, in the case of a trading platform like Match-Trader, it is the technology that is responsible for all the platform's unique functionalities that set it apart from other, more popular on the forex market.
Progressive Web App (PWA) is a modern model of application development that sets new standards in programming and can completely replace dedicated mobile applications in the future. Thanks to PWA technology, Match-Trader platform is really a singular app that itself adapts its interface and features to the user's device. The real all-in-one app means that our trading platform has both an interface for mobile devices as well as desktop and web.
The Match-Trader platform is downloaded and installed by the user directly from the Broker website. There is no need to install any additional mobile application from the app store (in many cases common to a large number of brokers) and then search your Broker in it to log in to the correct account. Thanks to the wide branding possibilities provided by PWA technology, the Match-Trader application has a logo and name chosen by the Broker.
An additional, very important from the user's point of view, technological aspect is the fact that Match-Trader platform, as an application on a mobile device can be launched from an icon on the home screen and adding a PWA app to the device's home screen takes up no storage. Thanks to this solution, our platform does not have high hardware requirements and maintains optimal performance even on older generation smartphones, so it can be used by a very wide group of users.
Best platform to trade "on the go"
Thanks to the mentioned technology, the user always changes to the devices on which he logs in to the platform, always uses the same application. This means that all changes he has made, e.g. in the view settings, markups he has made on charts, every open position or pending orders will be synchronized across all devices and visible to the user regardless of which device he will use.
Currently, many research centres such as Statista.com show that the majority of online activity is carried out using mobile devices. Internal analyses of traffic on brokers' platforms shows that even ¾ of all trades is executed on mobile platforms.
Match-Trader is a trading platform that has been designed for the needs of mobile trading, a dynamically developing trend that may soon displace traditional desktop platforms. Thanks to the fact that the user has all the information from the forex market always at hand and constant access to all his trading activities, he can manage his funds more effectively. Investors with a busy schedule of the day no longer have to look for time to stuff in the forex trading calendar. Our all-in-one trading platform brings freedom to forex traders allowing them to execute trades and effectively manage their funds anytime, anywhere they are, regardless of the device their using.
If broker decides to take our platform, he will receive a fully branded mobile trading app with its own logo and name, which is not possible to have from most popular trading platform providers. Platform is naturally available both on android and ios with exactly the same features and usability.
Match-Trader is the first platform to really combine all the needs of investors and traders (as well as brokers) in one solution. Many technology providers for forex brokers offer a range of products that make it easier to onboarding new clients and manage their trading accounts. Match-Trade Technologies, as the creator of the Match-Trader platform, decided to go a step further and has embedded its products such as Client Office (Forex CRM), Payment Gateways in the trading platform. That is, the broker in the Match-Trader offer has functionalities that would normally have to be paid additionally by buying separate applications.
Truly all-in-one trading platform
All-in-one platform means that setting up and managing an account on the platform is very easy and does not require the use of many applications such as separate Client Office app for clients. The customer who has an account with the Broker opens an account on the platform by filling out a simple form, automatically receives access data and can almost immediately start working. Thanks to the Client Office functionalities implemented on the platform, investors can deposit funds in the platform with just 1 click and immediate notification from the system goes directly to the Broker. The investor can request a withdrawal at any time in the same simple way. Match-Trader also allows crypto and credit card payments. Above that, for your clients 'convenience, traders can now get direct access to the broker's payment area allowing them to create new accounts and transfer funds between them and proceed with automatic KYC onboarding.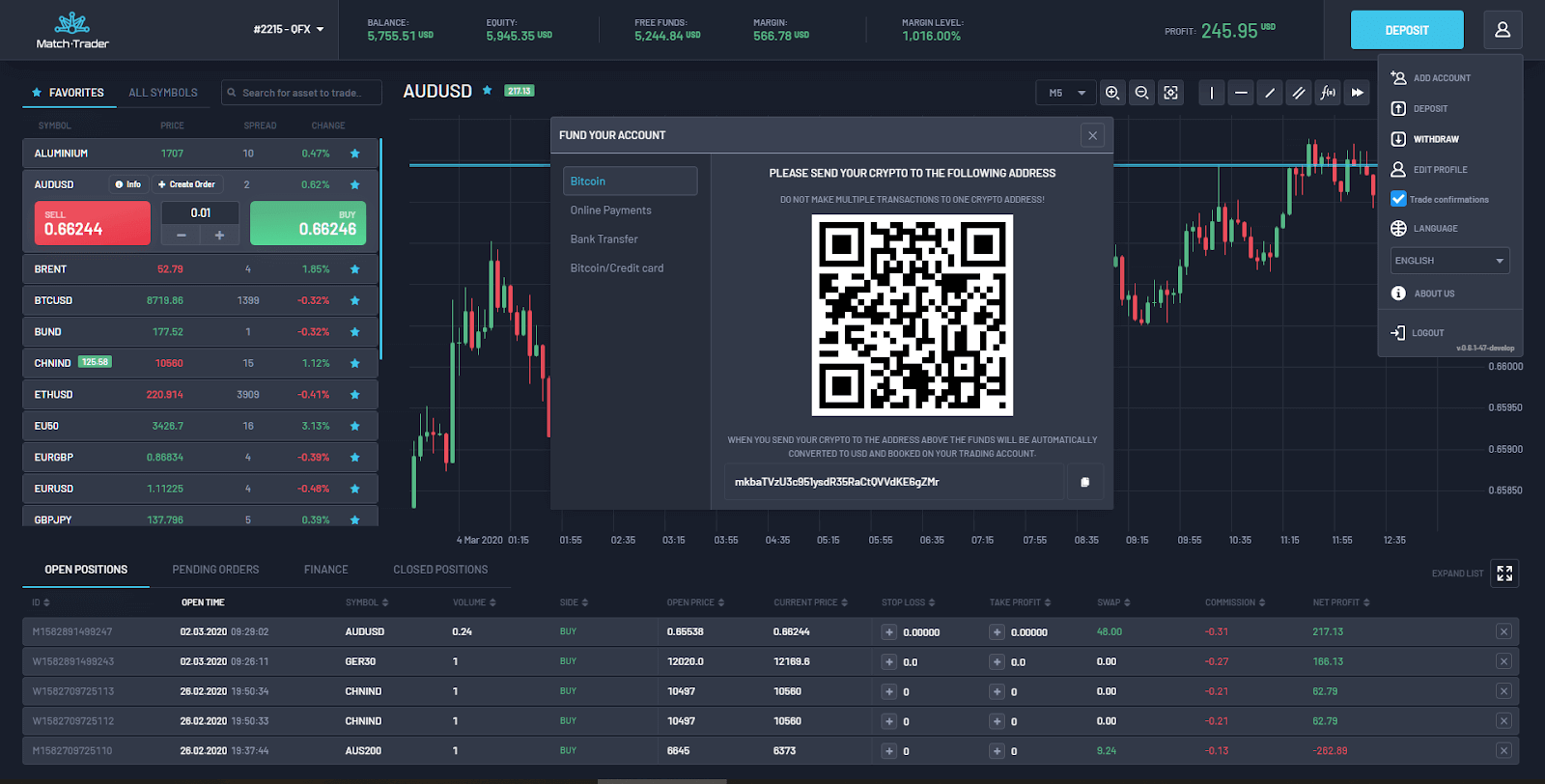 It is also worth to mention that platform is offered as a hosted solution, so broker will receive fully installed and configured server with wide range of instruments, price feeds, ultra-fast execution and direct support. This is especially important for startup brokers, who don't have dedicated IT and trading teams. Thanks to our setup they can focus mainly on marketing and acquiring new clients.
Last but not least … Usability & User experience
Seemingly the last thing that affects the efficiency of the platform, however the first thing the trader encounters on the platform – the interface. Match-Trader is a modern trading platform, based on advanced technology, so when creating the page layout, we took care of its unique appearance. The first impression is the most important. A modern platform adapted to the individual requirements of the Broker (on the logotype, button colours and other elements) will allow you to build a brand and provide investors with a sense of professionalism.
The Match-Trader interface has undergone many tests to ensure the best possible trading experience. The platform is very intuitive and user-friendly. It's easy to use and supports trading decisions by providing a full view of funds required to open a trade, expected result of take-profit and stop-loss orders. So using it will not be a problem even for novice users. Thanks to advanced functionalities, it will also meet the expectations of experienced traders.
All charts in our platforms are drawn at exactly the same prices as they appear in the Market Watch of the platform (even when marked up). It's transparent so investors won't have to wonder why the prices in Market Watch differ from those on charts. Also as previously mentioned, all the users' settings and personalization are synchronized across web, mobile and desktop in real-time.
Business-to-business-to-client
The entire Match-Trader system has been designed in such a way as to simplify the customer path as much as possible. From the trouble-free installation of the application, through opening an account and a deposit of funds for active trading. At no stage will the client encounter obstacles that could discourage him from using the platform
Even though Match-Trade Technologies provides services for Forex Brokers and crypto exchanges only, we make sure that investors from the retail market are aware that if the broker uses MTT services he has constant expert support and can expect services at the highest level.