Is it still profitable to invest in the forex business when the market is so saturated with brokers? Do the all-inclusive solutions available on the market really offer everything a broker needs to succeed? During the presentation, our Head of Sales Michael Nichols focuses on the key factors that make it difficult for existing brokers to develop their businesses and grow profits. He also presents solutions that will help them gain a competitive advantage according to the saying: if you're not first, then be the best.
Watch Michael's presentation or read the transcript below.
Let me start by introducing our company, so you have a better understanding of why I play the know-it-all about trading platforms.
Match-Trade Technologies
So, as the company's name implies, we are a technology provider with a comprehensive offer for CFD Brokers and institutional clients. When I said that we have a comprehensive offer, I meant that. We've built our own technological environment to guarantee the maximum performance of the tools we provide. So, like a one-stop-shop, we offer everything brokers need to start or expand their FX business.
Broker Solutions HUB
As you can see our HUB is platform-centred so naturally, it also includes management apps, payment solution, market data and liquidity aggregation. It's all in-house technology so we obviously provide IT and broker support. And as we have experienced experts in our team we can also advise on business setup. So it's not just an all-in-one solution but a truly all-inclusive business approach to enable growth for many years to come.
Match-Trader. Platform designed with the best user experience at heart
Studies on multiple fintech apps show that a well-thought-out design of the user interface can increase the number of deposits by 30% to even 43% (according to different studies). We all know that attracting new clients in Forex cost a little fortune so even the biggest brokers cannot afford to lose them. And the new generation of traders comprise digital natives… the statistics clearly show what matters the most to them: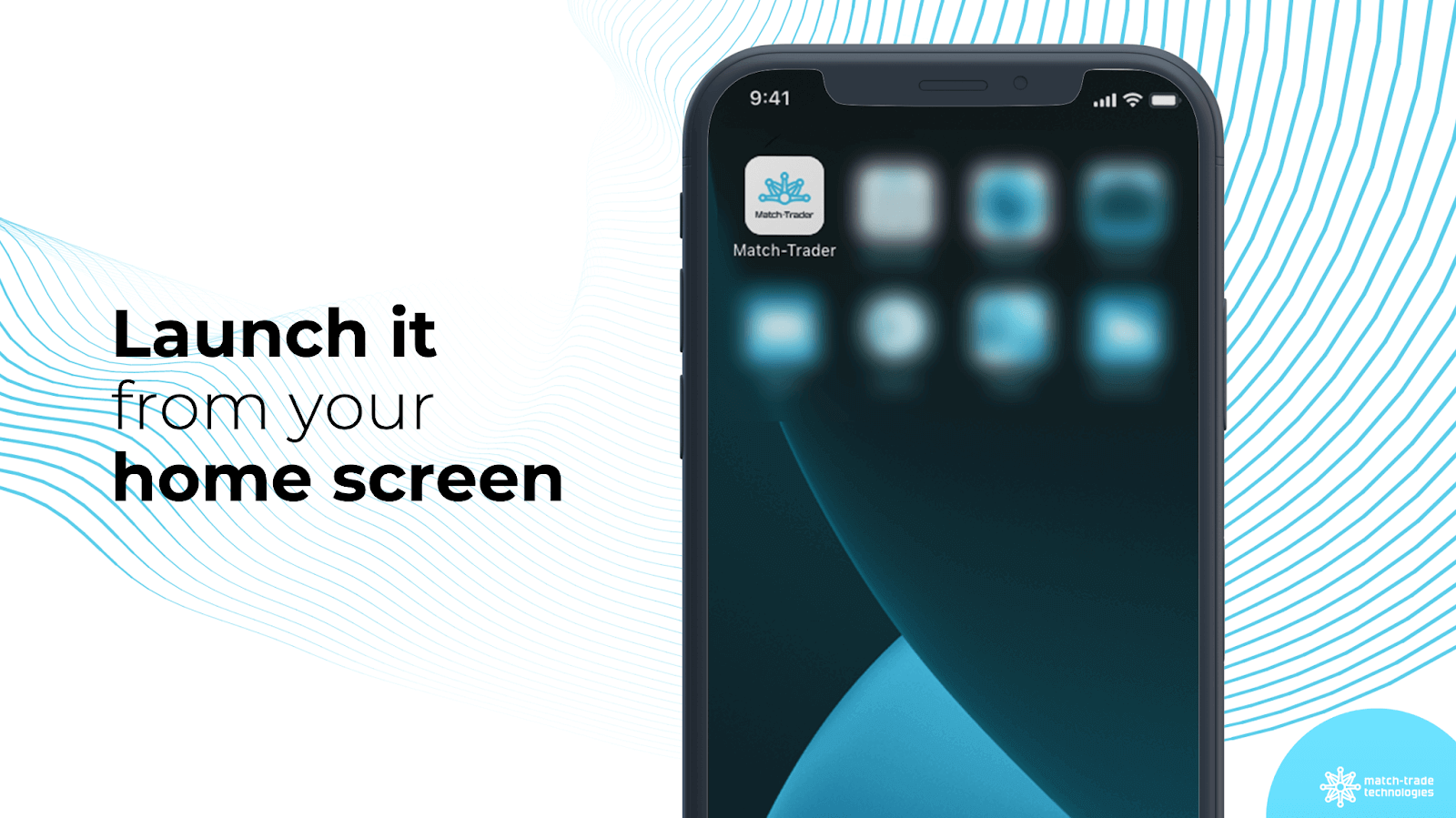 Digital experience is key
71% of customers favour a simple and easy digital experience over a friendly and helpful staff, and
34% of customers have switched financial service providers because of poor digital experiences.
Let's start with user experience as that's what matters most for platform creators. It's not only about the better-looking, optimised interface and positive experience. Our main goal is to provide a simple, logical and uninterrupted flow to ensure that traders will be able to perform every activity on the platform in an intuitive way. What does it mean? Traders should operate automatically, not the way they've learnt. One glance at the interface and they know exactly what to do and where to find the information they need. By the way, there's even a book, that's the UX bible titled: Don't make me think.
Trading Experience starts outside the Platform – That's where Technology takes the lead
When talking to my clients I always brag about the technology behind the platform. It may sound less important for traders and therefore Brokers, but it's actually what makes the difference.
Omnichannel platform
Progressive Web App technology is a modern way of application development that sets new standards in programming and can completely replace native mobile applications in the future. Thanks to this technology, the Match-Trader platform is really a single app that adapts its interface and features to the user's device. That means a trader always uses the same app and logs to the same account regardless of the device. So a trader can open a position at home, sipping morning coffee in front of their computer and close it or top up their trading account to avoid closing the position in the afternoon on their mobile while running errands in the city. That's because all of the user settings are synchronised in real-time across all the devices. It gives traders the freedom to trade whenever and wherever they want.
Hassle-free app distribution
The technology also makes the Match-Trader platform act like a native app so it can be uploaded to Broker's website or placed in popular app stores without the Broker having to undergo a complicated verification process with Apple or Google as Match-Trader has already been verified and approved. Everyone who tried that knows it's very annoying but also worth the effort as users in general trust app stores and are more likely to download apps from the store.

Why do I even bother you with these technical details? Because recent studies show that 86% of users favour apps over mobile sites. So even offering mobile access to a responsive web trader isn't enough anymore.
Mobile app for every trader/Mobile-first approach
So even though the Match-Trader platform is all of those things: desktop app, web trader and mobile app, we've put a lot of emphasis on improving the user, or in this case, you can say Trader's experience, before they even enter the platform. The accessibility! The app on the device has the Brokers logo and even their chosen name… and no more worrying about your brand name being low in alphabetical order, there's no bulk app. Traders don't have to expend any list and scroll to find their broker.
But, besides that, there's yet another huge advantage of PWA over the regular/native app. Match-Trader platform is launched exactly the same way, from an icon on the home screen but it takes up no storage space on the device. Thanks to this solution, our platform does not have high hardware requirements and maintains high performance even on older generation smartphones, so it can be used by a very wide group of traders worldwide.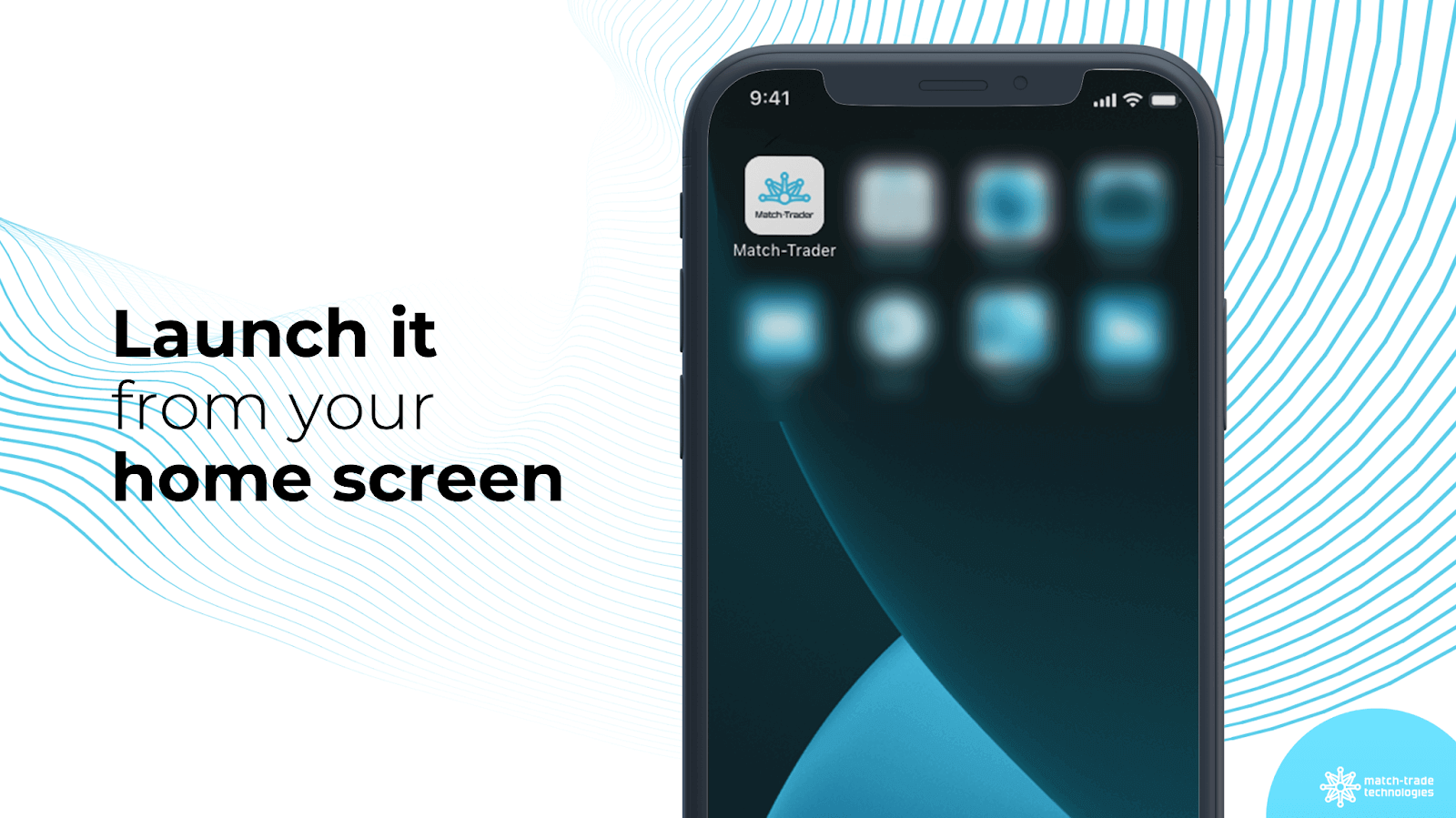 How a well-thought-out user interface can enable a broker's business growth?
When designing the Match-Trader interface we focused on increasing engagement to naturally boost the retention of clients. Keeping traders active within the platform is crucial because if they have to leave it, even just for a moment, to check some information or they have to log into another application, there is a huge risk that something will distract them and they will never return to the platform.
Therefore, in Match-Trader, all the key functionalities have been gathered in the trader's sight. Logically arranged in a very clear interface.
Ok, so what's the first rule of trading?
Always be up to date with market news
As you can see there's an Economic Calendar & News tabs embedded in the widget just above the instruments' list. So it's basically the first thing that catches your eye. The platform aggregates the most important market events along with an assessment of their impact and also presents instruments with the highest difference in price during the day (Top Movers).
It is a very convenient solution for Traders because they have information at hand that may affect their investments. They do not have to look for them on external websites, so there is no risk that another broker will tempt them with its campaign, e.g. on investing.com.
And the broker gets it all bundled with the platform. He doesn't have to search for and connect external sources of information or prepare forecasts. This feature is completely maintenance-free.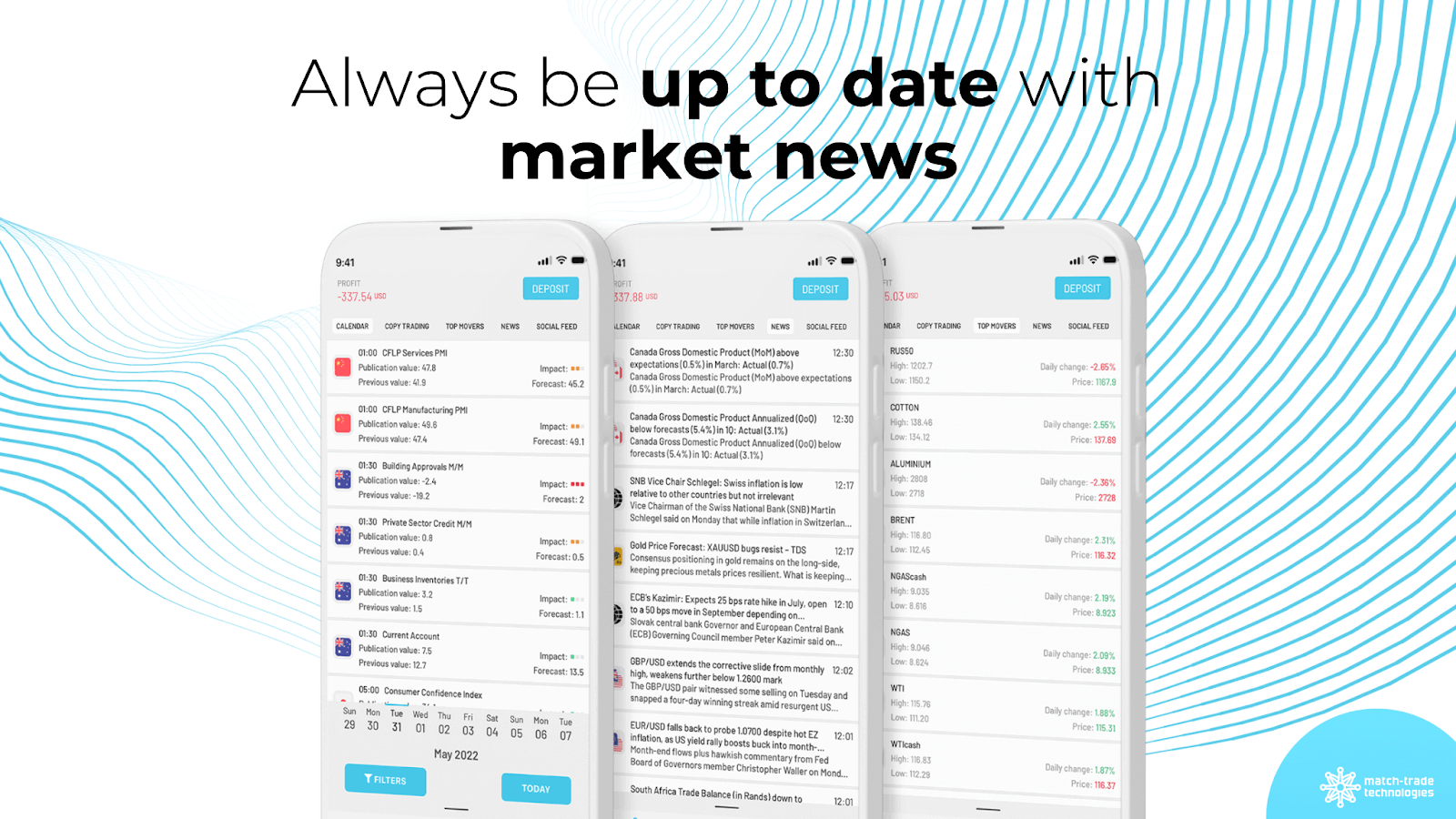 Don't want to trade on your own? Follow others
The Match-Trader platform gives traders the freedom to choose between trading on their own and following other, more experienced traders' strategies. Social Feed and Copy Trading widgets provide easy access to signal providers without leaving the platform.
So we can see the list of money Managers that can be followed with a selected budget, or single trades to copy straight from the widget. To find more information on signal providers' performance, like ROI and detailed statistics, there's just one click to enter the social trading tab, without leaving the platform to use another app. Plus traders get notified about every activity performed by the manager they follow.
But how do we engage advanced traders?
Match-Trader has an extensive chart section for trend analysis. The variety of indicators available on the platform will make it easier for traders to analyze the market situation and follow trends, making it easier for them to make trading decisions. The platform is very intuitive and user-friendly so it's naturally easy to use for novice traders but is also equipped with advanced functionalities to meet the expectations of experienced traders. So Match-Trader is a truly user-centred platform, designed not only for entry-level traders but also for professionals.
I have been trading for the past 5 years, I have tried multiple platforms and in the end, I realized I need a simple clean UI where I can enter and have my indicators easily accessible and be able to open positions quickly.
Freedom to manage trading accounts
Match-Trader offers built-in Client Office features, so there's no need for a separate app although it is also included in the package for Brokers who want to offer multiple platforms. It's very convenient for traders, to manage their accounts without having to leave the platform. They can easily deposit or withdraw funds, manage their notification settings, choose their preferred language, or change the colour theme or even layout mode. They can also instantly contact Broker's client service in case they need help or guidance.
Top up your account whenever you want
That is a very important feature both for Brokers and traders as I can't imagine trading without such a possibility anymore. Match-Trader platform comes with a built-in crypto payment gateway that allows traders to instantly top up their accounts for example to avoid closing positions. They don't need to leave the platform so it increases the chances they will complete the process that has been automated on the Broker's side so the funds can be credited to your account after just a few minutes.
From the Broker's perspective, the Crypto payment gateway is the best, and safest tool to accept deposits as we know the payments industry is tricky and a lot of it rests on the jurisdiction you are licensed or regulated in.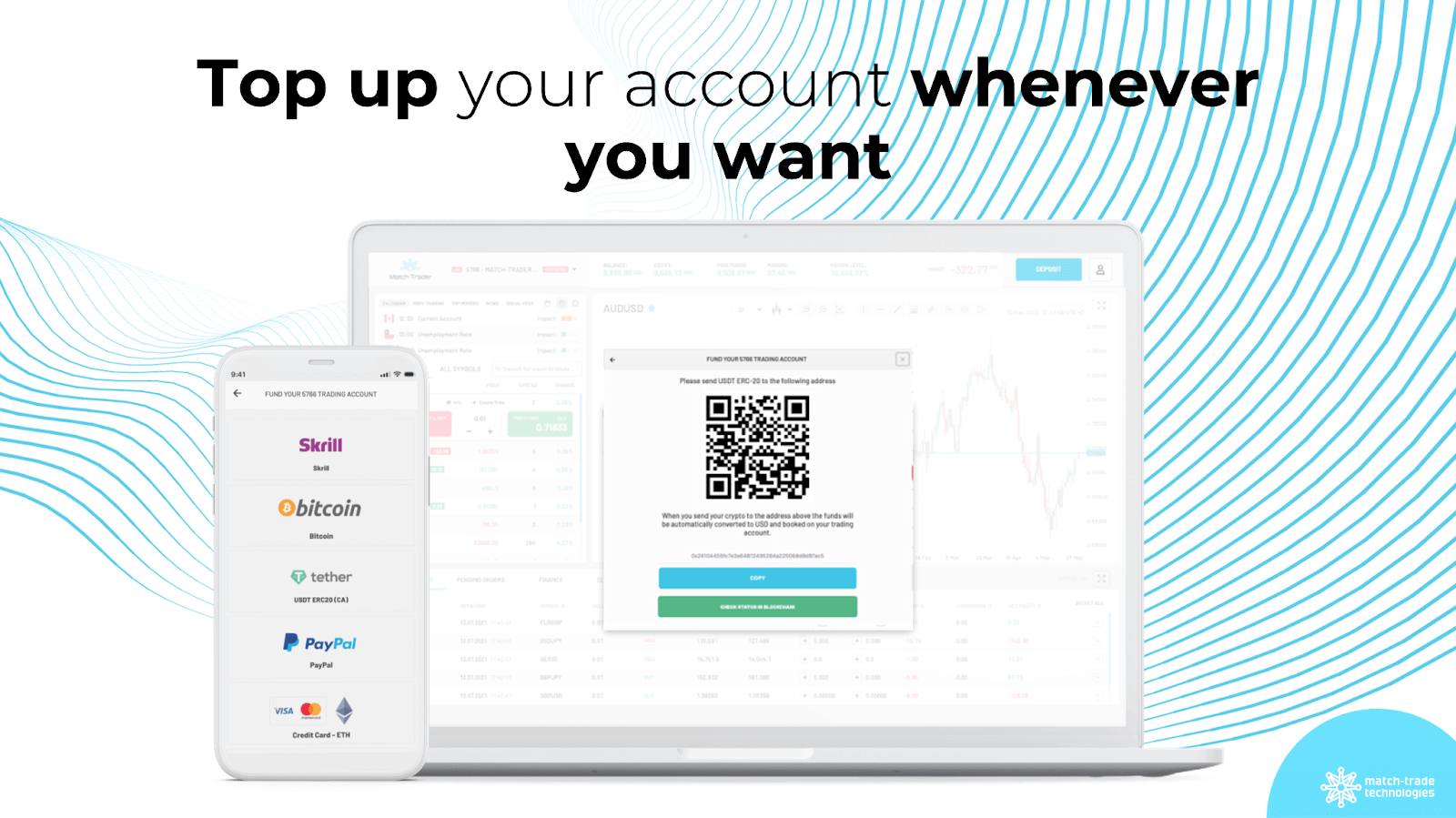 So, popularity or user experience?
This actually translates to the brokers' eternal dilemma: Legacy vs modern technology.
+70 % of the market share (popular among traders worldwide)
+20 years of experience (well-established trusted provider)
Millions of users – (there's a vast community of traders)
Plus, if it's popular, traders know how to operate, who needs advanced UI, right?
But… there's also the advantage of being a first-mover on the market. Change the unknown product into your biggest market advantage. Become the market leader.
Look at it as an innovation or upgrade. The forex market is so saturated with Brokers that it's hard to stand out, especially when they all offer the exact same solution. Do you want to look just like everyone else?
Every Broker needs to ask themself these 3 questions:
How far along do you plan your business? (Will you be able to build a strong brand while your business grows?)
Does your platform make you competitive in the long run? (Modern technology will not come out of date in a few years, so it's the investment in the future of your business)
Is it even possible to avoid investing in modern technology at this point?
How can Match-Trader help you level up your Broker business?
Full Server. Full control
First of all, we can offer you full control over your business. With our award-winning technology, you can offer your clients the best user experience and create a strong brand for your business. Plus when obtaining your own server you gain full control over the platform setup.
100% hosted solution
Match-Trader servers are hosted in the Azure or Amazon cloud for stability and maximal performance and can be installed worldwide. Each broker gets safe access to an isolated server thanks to which we guarantee high speed and maximum performance.
Live support
We offer constant technical support for our solutions as well as help and guidance in setting platform parameters. Our support team is available to Brokers via multiple messengers including emergency phone.
Secured client database
Of course, the broker maintains full control and exclusive access to their client database, which remains installed on the client's account in the indicated location to guarantee maximum security.
Plug & Play
Match-Trader Platform provides an open trading environment accessible via various APIs to enable smooth integration with Broker's own system and improve the work of the dealing team.
Make it your own
Match-Trader supports your brand to stand out on the market. The platform offers a wide range of customization options including several colour themes and layout modes for desktop. The broker can choose and customize the one that best suits their brand or let traders choose the version of the platform that best suits them.
Flexible & scalable
So Match-Trader is our proprietary technology. All applications in our ecosystem are seamlessly connected. We are not limited by other suppliers, so we can freely expand the platform and make changes at Broker's request.
No turnover fee
And last but not least… there's no turnover fee, brokers pay for active accounts only. Clients are charged a fixed fee for Real Active Accounts. There's no B-Book turnover or deposit fee, and the platform setup is also free. Brokers pay for the resources they actually use.
If you would like to know more details, download the MTR brochure and offer.