Match-Trade Technologies, the provider of turnkey solutions for Forex Brokers, has recently launched a new generation Forex Client Office app with CRM. The new application will increase the efficiency of brokerage business management thanks to the automation of all of the onboarding and payment processes.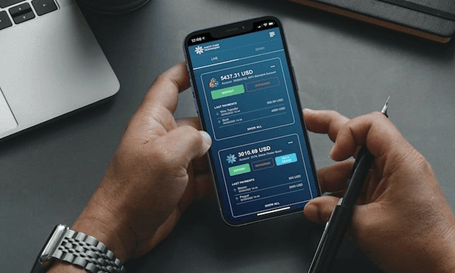 "The launch of our new Client Office (Trader Room) & CRM is closely related to the dynamic development of the Forex market that we observe during the coronavirus pandemic and increased interest in becoming a Forex Broker" – said the Chief Operating Officer at Match-Trade Technologies, Michał Karczewski. "Client Office with CRM is a must-have solution for every novice broker who wants to be able to compete in the Forex industry as investors require a convenient application to manage their trading accounts independently. At the same time, our CRM system has been designed to convert more leads into traders and track the key performance indicators (KPIs) of the Broker's business. Therefore, it allows Brokers to optimize many processes and thus reduce operating costs" – he adds.
Match-Trade's team adapted the new Client Office to the most advanced business requirements of the clients. It is already integrated with most popular trading platforms: MT4, MT5, and Match-Trade's proprietary, trading platform Match-Trader; but thanks to the flexible API it is possible to expand the app and seamlessly integrate with third-party software.
Convenient mobile app for traders and IBs
The new Client Office with Forex CRM includes a dedicated application for traders and IBs allowing them to manage the accounts (including IB commissions) independently. Traders can open demo and real accounts on their own directly from the app, transfer funds between trading accounts and making deposits and withdrawals. The app supports several languages ​​as well as direct communication with the Broker's team via popular online communicators to provide more convenience for traders.
The application has a modern design, is very simple and intuitive to use; any trader can easily handle it. It has also a special interface for mobile devices, giving high-quality experience for mobile users. Each client can also install the Client Office app on his mobile as an app, on request we can also upload it to Apple and Android stores.
A Broker in the CRM can also effectively measure and manage its leads. It is possible to assign leads to particular account managers, change statuses, leave notes or engage leads and investors by promoting special offers using built-in banner ad space or using mass mailing.
Match-Trade's Client Office is integrated with major payment service providers and blockchain networks to guarantee hassle-free money transfers via credit card, wire transfer and more. This allows depositing funds directly from the trader's app without the need to add additional intermediaries by the Broker.
CRM tailored to Brokers' needs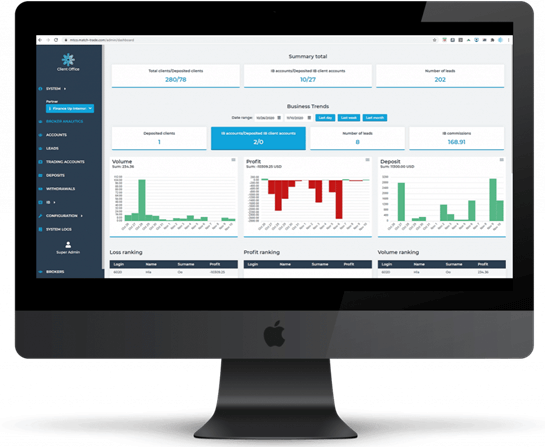 The Broker's application (CRM) enables staying up to date with all payments and withdrawal requests by sending e-mail notifications whenever a specific action occurs. The system also significantly speeds up the onboarding procedure. After registration, customers can upload relevant documents in the app for immediate review and verification. Moreover, the Broker decides to enable the KYC option, e.g. only for a particular payment method. Also, Broker can track the balances of all client's accounts, view all open positions, historical trades and ledgers on each trading account, all enclosed in a single app.
What is becoming an industry trend, the Client Office CRM provides embedded Analytics tool. Apart from tracking KPIs like the number of clients, the number of active accounts, net deposit value; there are also included statistics of net payout value, the number of IBs, profit per day and most profitable clients.
The Business Intelligence feature enables the Broker to comprehensively analyze its cash flows, making it an essential tool to expand the business and increase profits.
Trusted Partner for Brokers
Chris Dankowski, Chief Business Development Officer at Match-Trade Technologies, explains – "We have been cooperating with Brokers for many years now, and we are observing changes taking place in the industry. Strong competition makes it more difficult for new businesses to stay in the market. Therefore, we constantly invest in the development of the IT department and work on our own technologies to be able to offer our clients who want to become Forex Brokers modern solutions at an affordable price so that they can invest in building their brand and focus on customer acquisition. We have created our own Match-Trader trading platform, which is an all-in-one solution and already has a built-in modern Client Office module. Therefore we wanted to provide the same high-quality service to our MT4 / MT5 White Label clients, so we've created a completely new application for them".
Match-Trade Technologies is a company that has been providing its solutions to Forex brokers for many years and enjoys the great trust of clients. Over the last year, the company has grown significantly by establishing partnerships with companies such as Devexperts, Skale, Centroid Solutions and Takeprofit Tech, thus expanding the group of Brokers to whom it provides its services. Great market interest in advanced solutions developed in-house in cooperation with Match-Trade's Forex and IT experts resulted in the opening of another office in South Korea.
The article was written by Finance Magnates : https://www.financemagnates.com/thought-leadership/modern-client-office-with-crm-from-match-trade-technologies/