We often analyze the traffic on our clients' trading platforms and we came to a conclusion that over ¾ of all trades take place on mobile platforms. This shows an ongoing and rapidly growing trend of choosing mobile devices for daily forex activities.
Read the full analysis of the growing trend of forex mobile trading
Research shows that almost 52% of web page views worldwide are performed on mobile devices and – on average – 81% of users go online from mobile devices (reaching 91% in India and Indonesia). Also, Forex Brokers note increased traffic on their mobile trading platform, especially during rush hours meaning that investors are the most active while commuting.
Why is mobile trading so important for Forex Brokers?
Firstly, mobile trading gives users the freedom they expect. Until recently, forex traders needed to be constantly in front of a computer screen to trade. Today, thanks to smartphones and tablets, they can trade from anywhere in the world.
The demand for full-fledged trading from mobile devices is growing, and the number of brokerage applications is growing proportionally. Investors are looking for a single solution that would allow them to receive not only market prices, but also other useful services in a convenient format.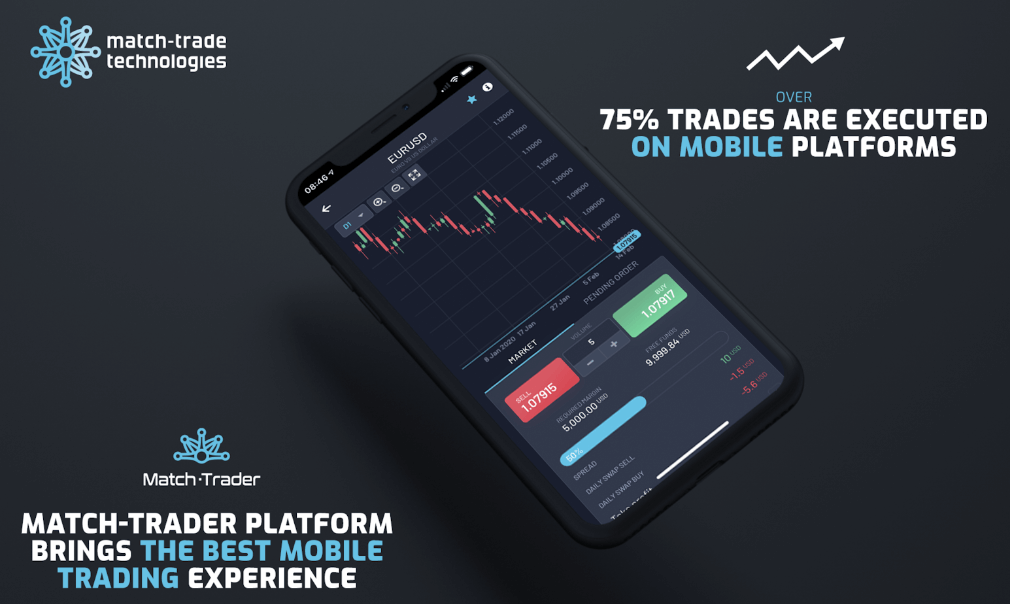 Forex Mobile Trading Statistics 
According to data compiled by Finance Magnates Intelligence, in the first quarter of 2021, 55% of trades were executed on mobile devices. Desktop applications accounted for the remaining 45%. Although this statistic does not reflect the state of affairs in the entire industry, it clearly shows the trend.
Dukascopy, one of the world's leading brokerage companies, has shown that the dominance of desktop trading is on the decline. Trading volume on mobile platforms offered by the broker jumped from nearly 19% in the first quarter of 2017 to over 36% in the second quarter of 2021 and still growing.
Modern technology to ease mobile trading
What does it say about traders' expectations? As mobile trading gives freedom of managing funds anytime, anywhere – forex traders are looking for trading platforms designed to trade "on the go" to maximize their performance.
A universal approach to forex trading platform development is a must because the average specifications of devices differ worldwide. The mobile platform is expected to be user-friendly and effective without having to invest in a high-end device.
The PWA (Progressive web app) technology makes Match-Trader – our new trading platform- a single app that adapts its interface and features to the user's device. All information and settings are synchronized across all user's devices in real-time. Therefore, traders will always see the same information, regardless of the device he's using. Also, it takes up no storage space on your device.
Offer your clients the best tools and share their success. Contact@match-trade.com to learn more about Match-Trader, our all-in-one trading platform and ask for the White Label offer with a $0 turnover fee.
Read the full article here: https://match-trader.com/mobile-trading-takes-over-forex-industry/