Risk Management System for Forex business
Our Match-Trade Risk Management System delivers all needed information to effectively control a broker portfolio
Match-Trade MT4 risk management system is a Broker Analytics platform enabling critical client risk exposures to be tightly managed from a central place. Flexible reporting tools enable real-time, scheduled and ad hoc report creation. All functionalities are available from a very simple and intuitive web interface. In our system, you can easily isolate risk exposures by the customer, liquidity provider or platform. This way you can build solid risk profiles. Match-Trade MT4 RMS provides you with a whole picture of your book.
Some of the key benefits of our Risk Management application are:
Analysis of the trading clients' performance
Evaluation of trading clients' risk profile
Evaluation of risk portfolio by instrument, client, and platform
Statistics and charts of revenues, deposits, trading volumes
Identification of unprofitable clients
A/B Book optimization
Advanced reporting of all transactions
Full Profit and Loss transparency
Hedge monitor which enables you to control your hedge exposure
Tendencies, trends, variance and changes within the portfolio
Possibility to integrate with external MT4 servers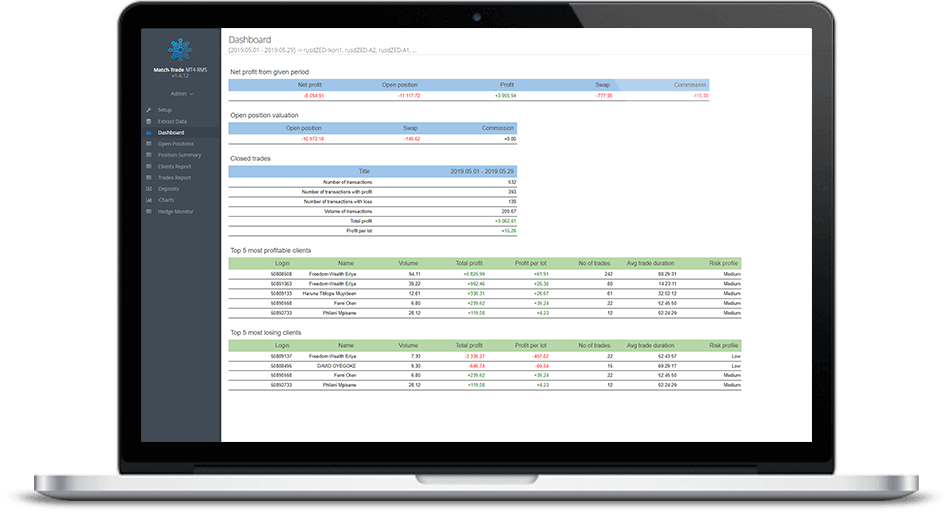 We assure also full support and consulting services, so each client can be sure that it will be fully equipped with relevant knowledge while using our products.