Bridge MT4/MT5 with RMS
Ultimate bridging & aggregation technology now available at a simple flat fee.
Match-Trade routing technology provides you with the most competitive aggregated liquidity at a very reasonable price.
MT4/MT5 Bridge and Liquidity Aggregator can work seamlessly with many Liquidity Providers, therefore we can provide you with full flexibility in connecting to desired liquidity pools. We have created a scripted language which allows creating different hedging and risk management algorithms. Our bridge can be customized to your needs. We service many satisfied brokers around the world, you can be one of them!
Together with bridge, we provide a web-based bridge manager application, where users can configure important parameters of the bridge, generate reports and see the current prices with market depth streamed from connected LPs.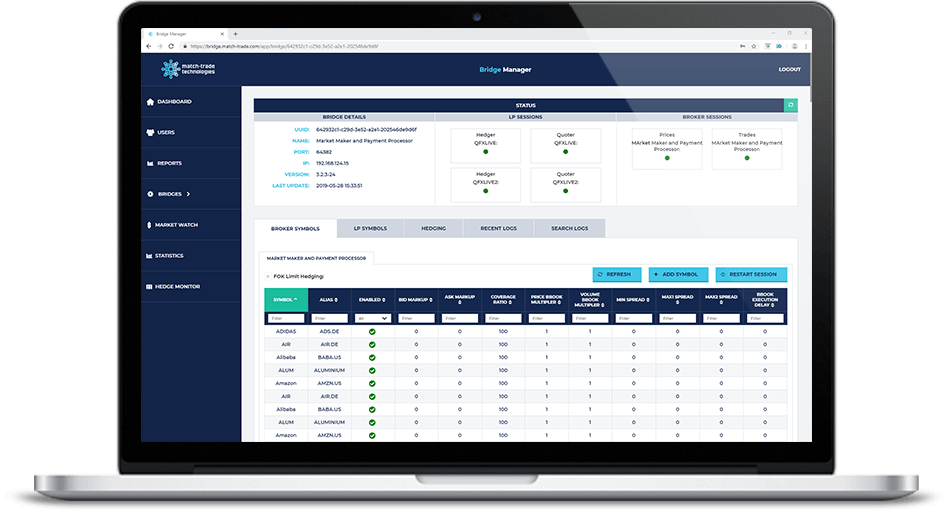 Some of the key benefits of our MT4/MT5 Bridge & Aggregator are:
Low cost
Easy to connect

Moreover, we guarantee seamless connectivity to multiple FIX compliant Liquidity Providers: LMAX, CFH, Currenex and many more. No plugin installation on MT4 Server needed.

Intuitive to manage

Use our web-based application – Bridge Manager for easy handling of A-Book and B-Book groups and clients. Manage data feeds with min/max spreads, price multipliers and order book modifications.

Robust Risk Management System

Firstly keep your profits under control with advanced order routing rules adjusted to your risk management strategy. Secondly, decide on the portion of flow you want to hedge with a coverage ratio parameter for all trades sent to LP. Get valuable insights with profitability reports for A-Book model.

Wide range of instruments available

Offer your clients extensive investment possibilities with a complete feed for Forex, Indices, Commodities, equity CFDs, Bitcoin, Litecoin, Dash, Ethereum, Ripple, Cardano, Terra, Solana, Avalanche and other popular cryptocurrencies. What's important the liquidity of our Partner LP is already integrated into the Bridge.

Transparency

Live view of LP price streams and markups. Order book streaming to MT5 Server.

Superb execution

Get the best prices with the best bid/offer aggregation. Rely on our finest VWAP execution for B-Book trades – fully automated.